Health Care and Beauty >> FACE CARE >> Face Care Combos
Vitamin C Complete Skin Glow Combo: Vitamin C Face Wash – 100 ml, Vitamin C Face Serum – 30 ml, Vitamin C Night Cream – 50 gm
Brightens the skin & Reduces dark circles,Deeply Cleanses Reduces dullness,Anti-Aging,Boost Skin Glow
₹ 1577.00 ₹ 789.00 - 50%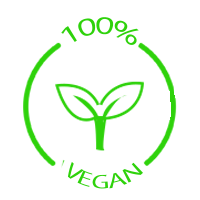 I am OrgaGlo Natural Brightening Vitamin C Complete face care combo, specially developed with a goodness of Aquaxyl, Niacinamide, Lemon, Orange and the richest source of Vitamin C - Kakadu Plum origin from Australia.
"Give your skin a little Love!"
Say Good Morning to your skin with my enchanting treat. I am enriched with a blend of all-natural components, including Kakadu Plum, Orange, Tomato, and Lemon offers countless advantages to your skin. Combining these components results in a gentle exfoliation of your skin that clears open pores and removes dead skin cells. Additionally, they minimise hyperpigmentation, calm skin inflammation, and regulate excessive oil production. They also balance out skin tone. This Orgaglo Vitamin C face wash, which is appropriate for all skin types, reduces the appearance of open pores, fine lines, and wrinkles to increase the flexibility of the skin. Also contains Niacinamide, which is powerful ingredient to get rid of dark circles and blemishes, clear your complexion and give you a radiant glow and spot free skin with unique hydration complex AQUAXYL for hydrated, soft and healthy look.
"Your skin is your best accessory, take good care of it."
I've been carefully crafted for maximum efficacy, skin rejuvenation, and overall outcomes. I am composed of Ethyl Ascorbic Acid and Sodium Ascorbyl Phosphate, a type of water-soluble Vitamin C that gets into the skin quickly and does not oxidize. Rich in Vitamin C, Ferulic acid and Vitamin E, it helps to accelerate collagen formation, eliminate dark spots and pigmentation, and make skin even more toned and clear. I am filled with pure Niacinamide and antibacterial Zinc PCA, making me the perfect treatment for fine lines, wrinkles, stains and scars. Hyaluronic acid and Aloe Vera help replenish and hydrate the skin instantly. Zinc PCA controls sebum production and irritation, resulting in oil-free, radiant, and healthy skin!
"Go for a filter-free selfie with me!"
After a long day, your skin needs some downtime to rejuvenate itself. A night-time skincare programme is the most effective method for promoting skin healing. Because while we sleep, our skin heals itself naturally and is better able to absorb other critical nutrients we apply. Ultimately, allows the product to penetrate deep without any outside disturbance. So, set your skin clock to a restore mode with Orgaglo Vitamin C skin brightening night cream. Repair & restore the youthfulness with power dose of vitamin C! Vitamin C is a potent antioxidant that evens out skin tone and slows the visible signs of ageing, and hyaluronic acid keeps skin supple and hydrated. While you rest, the night cream will get to work restoring your skin's natural radiance and elasticity.
"Do not have the time to take care of your skin? A night cream has got you covered!"
I am the finest quality of vitamin C and completely free from harmful toxins like silicones, parabens, dyes, phthalate, mineral oils, pathogen, PEG & SLS/SLES and that's why I am safe to use for all skin types!
What Do I Do ?
REDUCES DULLNESS & BRIGHTENS SKIN
An essential nutrient for collagen-boosting, Stable Vitamin C is enriched with Hyaluronic Acid, Niacinamide, Peptides, Bakuchi oil, Glutathione, and Aloe Vera in this advanced formulation. It is intended to target the most prevalent signs of ageing, such as brightness, firmness, fine lines, wrinkles, dark spots, and sun spots to give you a natural glow.
REDUCES FINE LINES AND WRINKLES
Its rich natural mixture penetrates the skin and works to fight against all ageing symptoms. Compared to anti-aging creams, which are thick and heavy on the skin, anti-aging serums are simpler to use. It contains water soluble Vitamin C, which boosts collagen synthesis. This serum is the next step after cleansing because it instantly gives your skin a boost of active nutrients.
PROMOTES EVEN SKIN TONE
Effortlessly cleanses and moisturizes your skin, leaving you with clear, fresher, and younger-looking skin that's soft, smooth, tan-free, and glowing. Get a brightening and rejuvenated skin that is breathes-free!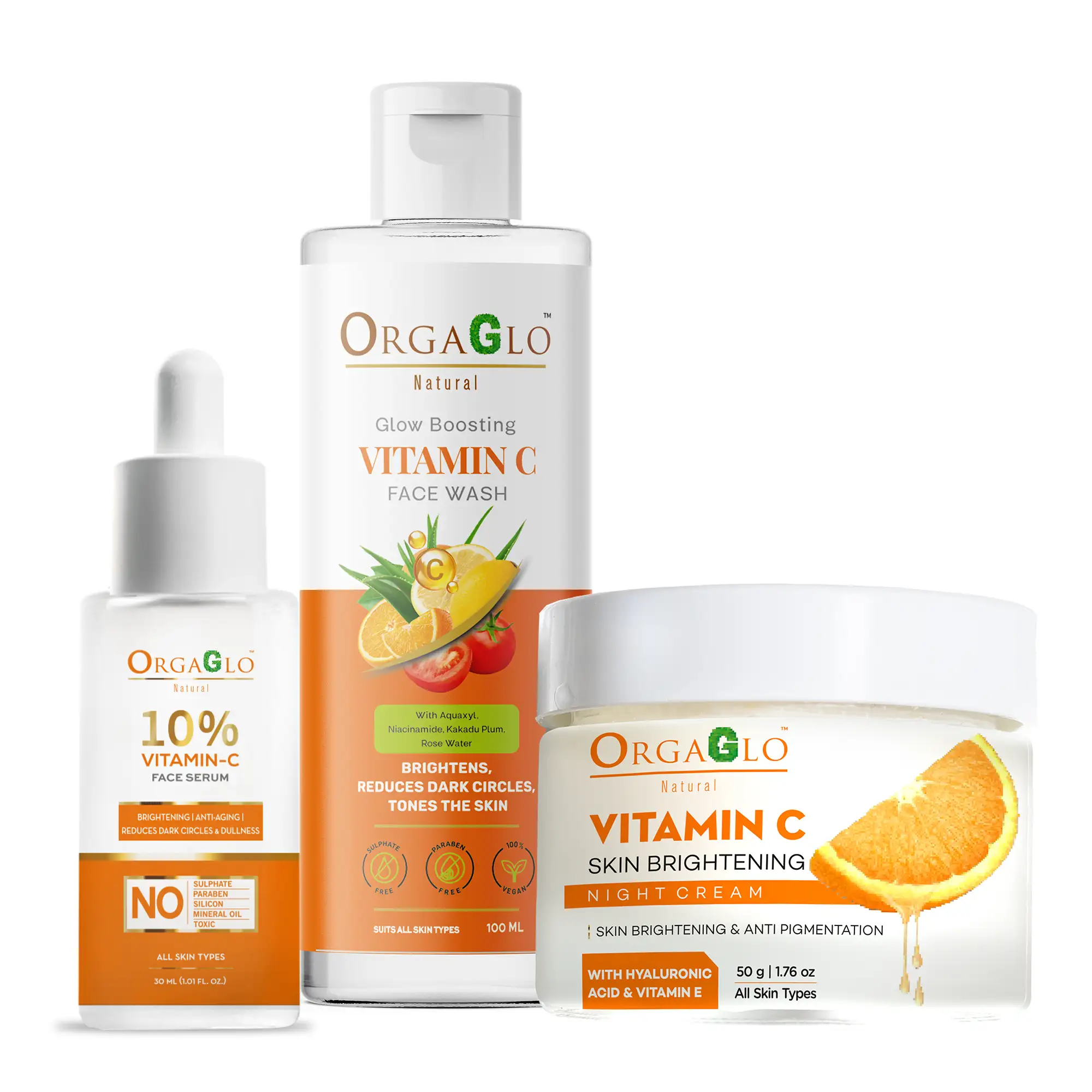 Moisten face and neck, apply appropriate quantity of face wash and gently work up a lather using a circular motion on face and neck. Wash off, pat dry and get a healthy, clean and glowing skin. Moisturize the face after washing it.Apply 3-5 drops of serum on the face and neck twice a day on an upward circular motion. Massage gently till absorption. Ensure you follow with SPF during the day, and moisturizing at night. Gently wash face and pat dry with a towel before going to bed.Apply Orgaglo night cream on your face and neck. Gently massage with fingertips until completely absorbed. If using with serum, apply the serum first, followed by the night cream.For best results, apply every night on a cleansed face.
IMPORTANT: Vitamin C loses efficacy when exposed to sunlight. Be sure to keep the bottle in a cool, dry place away from direct sunlight.
ORGAGLO VITAMIN C COMBO
NO SLE/SLES/SULFATES
NO PARABEAN
NO SILICON
NO MINERAL OIL
NO HARMFUL CHEMICALS
NO TOXIC
NO ANIMAL TESTING
NO ARTIFICIAL COLOR
100% VEGAN
OTHER VITAMIN C COMBO
CONTAINS SLS/SLES/SULFATES
CONTAINS PARABEN
CONTAINS SILICON
CONTAINS MINERAL OIL
CONTAINS HARMFUL CHEMICALS
CONTAINS TOXIC MATERIAL
ANIMAL TESTING
CONTAINS ARTIFICIAL COLOR
NOT VEGAN
VITAMIN C FACE WASH
Aqua containing Extracts of Lemon, Orange, Kakadu Plum, Aloe Vera, Tomato and Rose water with CAPB, Sodium Lauroyl Sarcosinate, Acrylates Copolymers, Decyl Glucoside, Coco Glucoside, CDEA, Glycerin, Sodium PCA, TEA, Niacinamide, Sodium Benzoate, IFRA Certified Allergen Free Fragrance, AQUAXYL(Xylitylglucoside - Anhydroxylitol – Xylitol), Potassium Sorbate, Sodium Ascorbyl Phosphate, D Panthenol, Disodium EDTA, Allantoin, Vitamin E & Citric acid.
VITAMIN C FACE SERUM
Aqua, Sodium Ascorbyl Phosphate (Vitamin C), Ethyl Ascorbic Acid (Vitamin C), Kakadu Plum, Lemon, Orange, Propylene Glycol, Niacinamide, Sodium PCA, Zinc PCA, Glycerin, Butylene Glycol, Olive Oil Peg-7 Esters, Sodium Benzoate, IFRA Certified Allergen Free Fragrance, Potassium Sorbate, Sodium Hyaluronate, Aloe Vera , Vitamin B5, Ferulic Acid, Allantoin, Disodium EDTA & TEA.
VITAMIN C NIGHT CREAM
DM water, Glycerin, Coconut oil, Cetyl alcohol, Stearic acid, Iso propyl myristate, Aloe Vera extract, IFRA certified allergen free fragrance, Triethanolamine, Acrylate Copolymer, Sodium Benzoate, Disodium EDTA, Ascorbic acid, Bakuchi oil, Tocopheryl Acetate, Peptides, Olive oil, Jojoba oil, Almond oil, Wheatgerm oil, Chia seed oil, Sunflower oil, Niacinamide, Glutathione & Hyaluronic acid.
Frequently Asked Questions
Disclaimer
Best Before - Within 24 months from the date of manufacture.
For external use only. Store in a cool and dry place.
The product contains natural ingredients and may change colour and fragrance, without losing effectiveness.
Even natural ingredients can cause and trigger allergies, a patch test is recommended before using.
In case of any rashes or allergy, please consult a specialist.
All images are shown for illustration purpose only, actual results may vary.
3 Review(s)

Gopika Patel
Trust me this is lovely, Using it since last one week and have seen tremendous results I can actually feel reduces dullness on my face and neck.

Vikki Shehravat
Natural and toxin free product, I think product is very wealthy to use.

Nikki Nimavat
I get result smoother, younger and revitalize skin, good to buy.