Health Care and Beauty >> HAIR CARE >> Hair Care Combos
Red Onion Complete Hair Care Kit For Hair Strengthening & Hair Fall Control
Hair Fall Control,Boosts Hair Growth,Dandruff Controls ,Soothes Scalp,frizz free hair
₹ 1346.00 ₹ 605.00 - 56%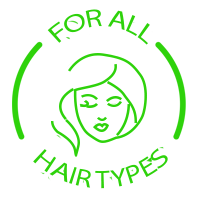 I am Hair Strengthening OrgaGlo Red Onion complete hair care combo, specially formulated with the goodness of Red Onion, Ginger, D-Panthenol, Plant Keratin, Wheat Protein, Aloe Vera, Amla, Bhringraj, Brahmi, Shikakai, Sweet Almond Oil, Biotin, Olive oil, Hibiscus and many more hair strengthening actives.
Give an amazing gift to your Hair!!
Give the best treat to your hair with the goodness of Red Onion, Ginger & Plant Keratin. I have super power to resolve your hair fall problem & offer you soothes scalp with visible hair growth. I can fight against hair problems with the help of excellent fighters, which are rich in vitamins, natural oils, amino acids, minerals and antioxidants.
Take perfect care of your fabulous hair, it is the crown you never take off!
I am the finest quality of hair care combo and completely free from harmful chemicals and toxins like SLS/SLES, silicones, parabens, dyes, phthalate, mineral oils, making me 100% safe to use.
What Do I Do ?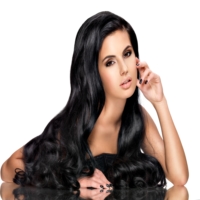 HAIR FALL CONTROL
Antioxidants, nutrients, and vitamin E-rich Red onion combo for hair growth, which promotes healthy hair and lessens hair loss, moreover, it strengthens and guards against shedding by promoting blood circulation to the roots.
STRENGTHENS HAIR
Sulphur content of Onion supports strong hair while Keratin forms a protective layer that strengthens hair. Amla and Shikaki provide great cleansing and healthy scalp for strong hair.
NOURISHES DRY HAIR
Enriched with natural nourishing ingredients Almond oil, Coconut oil and Argon oil. Deeply penetrate in to the hair shaft, provides great nourishment and gives soft, smooth and frizz-free hair.
SOOTHES SCALP-BOOSTS HAIR GROWTH
Onion and Ginger has many regenerative properties, from rebuilding hair follicles to strengthening roots. It can activate certain enzymes on your scalp, which helps optimise the regrowth of hair. Black seed oil with powerful antioxidant & antimicrobial properties, strengthens hair follicles, stimulates hair growth.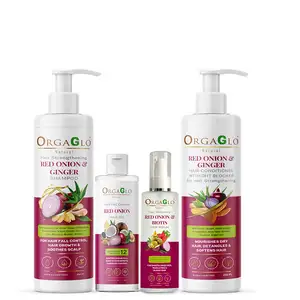 Step 1 - Part your hair in two halves and apply the OrgaGlo Red Onion hair oil directly to the scalp. Leave it overnight, or for few hours.
Step 2 - Apply OrgaGlo Red Onion & Ginger shampoo to wet hair and gently massage with fingertips. Work into the lather for a few minutes and let the natural ingredients work their magic. Apply twice and rinse well with cold water.
Step 3 - After Shampooing, take ample amount of OrgaGlo Red Onion Ginger hair conditioner. Apply it on damp hair and work it through the strands from the middle to the ends. Leave on for 2-3 minutes. Rinse off well with cold water.
Step 4- Take 1-2 pumps of OrgaGlo Red Onion Hair serum in your palms, depending on your hair length. Rub palms together and apply evenly throughout the lengths of towel-dried or dry hair, all the way to the hair tips. Turn it on. Use it after every hair wash.
Men and Women of age 15 years and above Frizzy, dry, damaged, coloured and chemically treated hair Suits all Hair types
ORGAGLO RED ONION COMPLETE HAIR CARE KIT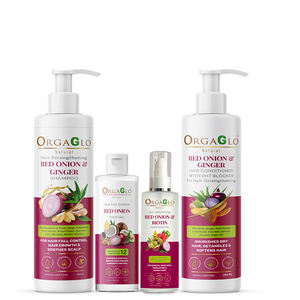 NO SLS/SLES/SULPHATES
NO SILICON
NO PARABEN
NO MINERAL OILS
NO HARMFUL CHEMICALS
NO ANIMAL TESTING
NO TOXIC
100% VEGAN
NO ARTIFICIAL COLOR
OTHER HAIR CARE KIT
CONTAINS SLS/SLES/SULPHATES
CONTAINS SILICON
CONTAINS PARABEN
CONTAINS MINERAL OILS
CONTAINS HARMFUL CHEMICALS
CONTAINS ANIMAL TESTING
CONTAINS TOXIC
NOT VEGAN
CONTAINS ARTIFICIAL COLOR
HAIR OIL
Prunus Amygdalus Dulcis (Sweet Almond) Oil(2%), Cocos Nucifera (Coconut) Oil(2%), Allium Cepa (Red Onion) Oil(1%), Nigella Sativa (Black Seed) Oil(1%), Vitis Vinifera (Grape) Seed Oil(0.1%), Mandarin Essential Oil, Sweet Orange Essential Oil, Sapindus Mukorossi (Reetha) Oil, Acacia Concinna (Shikakai) Oil, Persea Gratissima (Avocado) Oil, Triticum Vulgare (Wheat) Germ Oil, Bacopa Monnieri (Brahmi) Oil, Glycyrrhiza Glabra (Licorice) Oil, Sesamum Indicum (Sesame) Oil, Helianthus Annuus (Sunflower) Oil, Tocopheryl Acetate (Vitamin E), Butylated Hydroxytoluene.
SHAMPOO
Aqua containing extracts of Onion, Aloe Vera, Amla, Bhringraj, Brahmi, Shikakai, Ginger, Cocamidopropyl Betaine and Glycerin and Caprylyl/Capryl Glucoside and Sodium Methyl Cocoyl Taurate, Sodium C14-16 Olefin Sulfonate and Sodium Cocoamphoacetate and Cocamide MEA, Coco Amido Propyl Betaine, Sodium Lauroyl Sarcosinate, Hydroxyethyl Urea, Hydrolyzed Keratin, Hydrolyzed Collagen, Hydrolyzed Wheat Protein, Cocamide MEA, Polyquaternium-75, Glycerine, Polyquaternium-7, Ethylene Glycol Monostearate, IFRA Certified Allergen Free Fragrance, Pisum Sativum Peptide, Genamin CTAC, Polysorbate 20, Acrylates Copolymer, Sodium Benzoate, D-Panthenol, Methylchloroisothiazolinone and Methylisothiazolinone, EDTA Tetra sodium
CONDITIONER
Aqua Containing Extracts of Aloe Vera, Hibiscus, Amla, Brahmi, Reetha, Shikakai & Saw Palmetto with Ceto-Stearyl Alcohol, Capric Caprylic Triglyceride, Behentrimonium Chloride, Cetyl Alcohal, Cetrimonium Chloride, Glycerin, Olive Oil , Coconut Oil, Shea Butter, Sodium PCA, D Panthenol, Polyquaternium-10, Lexfeel 7, IFRA Certified Allergen Free Fragrance, Keratin PF(Hydrolyzed Corn Protein & Hydrolyzed Wheat Protein & Hydrolyzed Soy Protein),Onion Oil,Ginger Oil, Guar Gum, Kathon CG(Methylchloroisothiazolinone and Methylisothiazolinone), Almond Oil, Argan Oil, Disodium EDTA & Butylated Hydroxytoluene.
HAIR SERUM
Aqua containing extracts of Onion Seed, Hibiscus, Brahmi, Bhringraj, Shikakai, Sensolene, Hydroxyethylcellulose, Polyquaternium-7, Propanediol, Polyquaternium-39, Polyquaternium-44, Polyquaternium-73, Sodium lactate, IFRA Certified Allergen Free Fragrance, Biotin, D- Panthenol, Potassium Sorbate, Sodium Benzoate, Di Sodium EDTA
Frequently Asked Questions
Disclaimer
Best Before- Within 24 months from the date of manufacture.
For external use only. Store in a cool and dry place.
The product contains natural ingredients and may change colour and fragrance, without losing effectiveness.
Even natural ingredients can cause and trigger allergies, a patch test is recommended before using.
In case of any rashes or allergy, please consult a specialist.
All images are shown for illustration purpose only, actual results may vary.
9 Review(s)

Vrutika Premani
Really great gift received from Orgaglo for my skin…As I m Suffering from pimple…But after using this regularly now its improving.

Yogesh Mohanty
When I first started using this I was pleasantly surprised because it did not dry out my hair. Instead it was extremely soft and smelled great!

Akansha Dixit
What an amazing product it is. Ordered from Orgaglo and was delivered quickly. Coming to the product its the most suited kit for my type of hair scalp. Such fragrant , full of natural ingredients that keep ur hair silky and shiny. Order it without a second thought. Go for it . Highly recommended.

Chitrani
Very elegant product, worth purchasing, which soften my hairs every time I use it. I surely recommend this kit to my family & friends.

Janhavi Suthar
Using this kit got effective results

Urmila Pauravi
Using this combo for a week really reduces my hair-fall and dandruff. Looking forward for more results. Overall nice product.

Aditi
This is one of the best kit I came across, it makes my hair so soft and frizz free. My hairfall is also controlled. I can also spot the increase in length of my hair.

Sulakshana Subramaniyam
Scent is Good, Packaging is Awesome, This all-in-one kit has the qualities to tame the most frizzy, damaged & dry hair.

Shrishanth
Omg this product is amazing...I've used just thrice but I felt the difference in my hair at its first use only. It's a combination of shampoo and conditioner.Talking about the ingredients... it has everything which I used to try at home but creating a lot of mess but after using this product it gives me great difference.Moreover its suitable for all hair types along with natural herbs, Onion Seed, keratin, biotin and argan etc, which helps in boosting growth, volume, shine and hair strength. It also protects you hair from getting fizzy and keeps scalp dandruff free.Definitely will continue using this product.